Anne-Marie Hutchinson Awarded President's Medal
Posted: 26 Sep 2014 by Cheryl Hepfer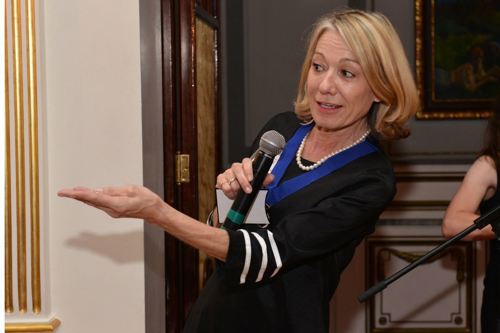 Every now and again an exceptional person, with boundless energy and strong ideals, tweaks our interest in an area of importance of which we had previously been ignorant.  And, as a result of their tireless work and high ideals, they foster a desire in the rest of us to follow their lead and lend a helping-hand.
So, it is with Anne-Marie Hutchinson, OBE.  It took me a while to figure out what those initials meant.  After all, I am an American, and we don't understand titles.  But as I got to know her and her accomplishments, I certainly understood why she is Anne-Marie Hutchinson, OBE.  To say that she is unique is an understatement.
She has raised our conscious and awakened us to the rights of children and others. A few years ago, at the AGM meeting in Singapore, Anne-Marie spoke about forced marriage.  To many of us, especially those of us who live in the United States, it was shocking.  To Anne-Marie, it's a horrible problem with which she deals on a regular basis in her practice.  She has been propelled to the position of world's expert, simply because she cares.  She is willing to step up to the plate, to personally travel to the ends of the earth, to save a child - yes, one child.  She takes it personally.  She educates.  She informs.  She goes to Court, and she takes on those who are powerful to protect the rights of those who are not.
Anne-Marie is also the "Queen Bee" of surrogacy.  She has represented the high and mighty who wanted to have a family, and has helped the stateless children who are left floundering because of archaic rules.
Anne-Marie is recognized as the world's leader in the areas of International Surrogacy and Forced Marriage.  It is through her good work and leadership that the IAML became aware of both of these issues of basic human rights, resulting in both becoming initiatives of the IAML over the past two years.
I had the pleasure of spending some time with Anne-Marie last November.  I met her in Chicago, where she was the first speaker for the Joanne Ross Wilder Lecture put on by the AAML Foundation.  When she spoke to the 350 people in attendance, there was not a dry eye in the room.   She was sought after by the press and local radio stations, who were aware of her stature in the area of Forced Marriage.
She then quickly switched hats, and spoke at the AAARTA Symposium in Charleston, South Carolina a few days later.  She then journeyed to Washington, DC, where she presented a webinar that was heard around the world on the human rights violation, forced marraige.  Without missing a beat, the next day, she was welcomed into the offices of the State Department of the United States.
Everyone was "all ears" to hear what Anne-Marie had to say about both the problems and concerns of international surrogacy - children who are not able to join their parents as a result of antiquated laws, and forced marriage, which is much more rampant around the world than most of us realize.
Now, Anne-Marie must weight all of 90 pounds, and one's first impression may be that she is a bit of a push over.  After all, she is slight of build and relatively unpretensious.  Those poor, unsuspecting folks who underestimate Anne-Marie, soon have a rude awakening.  She is indeed, a force to be reckoned with!
Here are some comments made by others about Anne-Marie:
Teertha Gupta QC:
"Anne-Marie Hutchinson provides the benchmark for all other lawyers to aim for.  She is a tour de force in the world of international children cases - when she is on your side, you will most probably win your case, and when she is against you, you will be best advised to give up and run for the hills."
Marie Jenkinson, Forced Marriage Unit of the UK:
"The Forced Marriage Unit are extremely grateful to Anne-Marie for the work she has previously and currently does in tackling the unacceptable practice of forced marriage.  Despite being a UK Government Unit, our successes, in part, have been down to the diligence and tenacity of Anne-Marie in ensuring cases are seen through to their successful conclusion."
Polly Harrar, Founder:  The Sharan Project:
"Anne-Marie is one-off.  She is a maverick, a lifesaver, and an inspiration to us all."
Elizabeth Gail, American Embassy, London:
"We value her extensive expert knowledge and willingness to help whenever we ask for advice and assistance.  Our gratitude cannot be overstated."
Her partner's husband, Robert Quinn:
"When my wife tells me she has a complicated case and needs to brainstorm with Anne-Marie, I know that she won't be home until the early hours of the morning, and when she finally arrives home, she'll smell suspiciously of champagne."
And then, those who know her best - those with whom she works.  When asked for one word to describe her, they said:
"formidable, tireless, shrewd, pithy and bossy."
I describe her as
"Amazing and beyond fabulous!"
Anne-Marie has given untold hours of her time and boundless energy fighting for individuals whose lives are affected by issues of surrogacy and forced marriage.  She is recognized, world-wide, as an expert in both areas, and, as a result, has been at the forefront of educating the world on both issues.
For her tireless contributions, both to the IAML and to the world community at large, we recognize Anne-Marie and her many well-deserved accomplishments.  We are proud of her efforts to make the world a better place for those who seek our protection from forced marriage, as well as for those who are desperate to have a child.  She is a treasure.  She is our treasure - and, we are so very proud of her.
It is, therefore, my privilege to award Anne-Marie the highest award that the IAML can bestow on a Fellow - the President's Medal.
---