President's Blog
Posted: 26 Oct 2015 by William Longrigg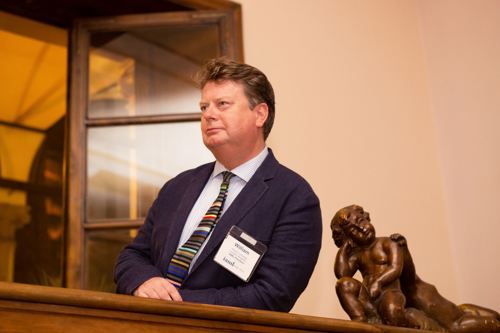 I said in my last blog dated 11th August that I hoped to do another blog prior to the Sicily meeting which began on Wednesday 9th September.   It proved to be quite impossible which confirms my view, as if it needed any confirmation, that IAML needs some serious external help with social media and that is one of the things that we are discussing.
Since the last blog, I see from looking at my diary that the first thing I had to deal with was a conference call from the top of a mountain in Wales on 18th August.   The house I was staying in for my holiday had no Wi-Fi and no mobile reception so I had to drive to one of the highest point in the Snowdonia National Park (15 minutes away from the house) to make any calls, surrounded by some of the loveliest views in the world and a lot of sheep.   It was here that we made very good progress with Red Rooster in our conference call with Cheryl Hepfer, Mia Reich Sjogren, Rachael Kelsey, Tom Sasser, Nancy Berg and me.   We were designing the new IAML/IAFL logos to be shown at the AGM in Sicily.   It was exciting and interesting and there was a lot of agreement between us. A good change from client work and who would have thought that we have such strong ideas about fonts and colours? This was followed by another conference call a week later having received several more iterations of the logo from Red Rooster who are really doing a good job.  
Never have I spent so much of the holiday season on the telephone to a combination of my IAML colleagues, and particularly Donna and Joanna and of course my agent in Sicily, Tobias who was calm and extremely efficient throughout.   The day job carried on remarkably successfully in-between but it is always helpful when quite a lot of the clients are on holiday too.
I flew to Sicily on Sunday 6th September having become obsessed with the weather forecast for Taormina.  A couple of forecasts showed solid rain for the whole period of our meeting; others showed rain just for the first half.   Search as I might, I was unable to find a forecast with unbroken sunshine for every day of the meeting. This caused me increasing concern.  It was the one thing I was unable to control….
After meeting with the agents on Sunday evening, on Monday morning I went with Tobias to check out the beach in preparation for our lunch on the beach and boat trip to be held the following Thursday.   The heavens opened and we were soaked through to our undies. A number of the forecasts suggested that it was not going to stop for some time.    This was only Monday so I was not panicking, but I was not happy.   Luckily there was some respite for the al fresco dinner that evening for the Executive Committee who had arrived a day early for the strategy meeting on Tuesday 8th September.   It was so good to see everybody.    The evening was enormous fun and it was lovely to be sitting outside in the warm with good food and good wine.
The IAML strategy day for the Executive Committee (plus Daniela Kreidler-Pleus, President Elect of the European Chapter) was facilitated by Suzanne Kingston who does the professional training in England for collaborative lawyers, mediators and arbitrators, among other things.   It was a long and fascinating and fruitful day.   As the rain pounded on the windows of our meeting room, we broke out in groups to discuss issues for IAML going forward.   The categories were legal issues/lobbying/education, expansion – membership and meetings, new committees and website/rebranding/social media.
I had been told the day before that the restaurant we had booked for the Executive dinner (Al Duomo) was no longer available because the owner had died suddenly and it was closed.  As it happened, Dorothea and I had checked out another restaurant which had availability for 30 people and was slightly cheaper than the other one so we ate there.  It was a wonderful space with photographs of its famous visitors over the past few decades crammed onto every inch of the wall. 
The respite in the weather was short-lived. Wednesday was the Executive Committee meeting and floor of the meeting room was completely flooded when we arrived there at 9 am.  It had rained so hard and so persistently during the night that many parts of the leaking hotel had towels lying over the floor to soak up the water.   Even the general manager of the hotel was helping to mop up the half-inch deep pool.  The delegates were drifting in by now (almost literally) and it was great to see many old friends.
The rain finally stopped an hour and a half before the welcome reception which was moved from the gardens to the three huge and beautiful main rooms of the San Domenico Hotel.  The clear after-rain-wet sky and panorama from the terrace lifted everybody's hearts and the atmosphere was quite wonderful.   There were more than 250 people, very pleased to see each other and delighted that the rain had finally stopped.   Many had flooded rooms and a number had been sent to other hotels because the rain had penetrated the 15th century structure.   But they did not complain and, as Cheryl Hepfer says, these things can be a very bonding experience.
The education programme prepared by Helen Ward, Johan Sarvik, Fredric Renstrom and Max Meyer was superb and they began it by walking in dressed in black tie to the music from The Godfather movie.   The case study was based on the plot of the film and was very skilfully used to provide a wonderful CLE programme covering many areas of the law with relevance for every jurisdiction and representation from every jurisdiction.   There was a lot of discussion and feedback as we had allocated seats on circular tables with a "group leader".  They are all to be congratulated for an enormous amount of work and their vision and imagination.  The guest speaker was Associate Professor Lucinda Ferguson from Oxford who spoke philosophically about the concept of "fairness" in the context of family law.
All the trips were a success, as were the dinners, but the highlight was the President's dinner on Saturday evening, held at the villa used in the Godfather movie (where Apollonia gets blown up in the car).   We started in a field with a huge screen showing clips from the movie where the villa appeared and then everybody walked in through the gates to the courtyard full of tables with the beautiful villa lit up in the background.   Thanks to Neal Hersh from California, a friend of Al Pacino, we had a clip on the screen of Al Pacino sending best wishes to us and when he actually said the words "International Academy of Matrimonial Lawyers" so everybody realised he was talking directly to us, it was pretty special!  The food was great, the opera singers we arranged were excellent and we danced to a great disco at the end of it.
I also need to mention the Audrey Ducroux lecturer, Professor Massimo Cremona, a friend of Rome fellow Andrea Russo, who spoke to us on Saturday morning extremely engagingly on the subject: "Only a Fool will Invest in Italy?"   He is a well known Italian economist and gave a frank, warts-and-all overview of how things work (and do not work) in Italy.  
The end of the Sicily conference also marked a very important Board of Governors' meeting during which the question of the change of name IAML was debated and voted on by the Board of Governors.   As previously publicised, the question was whether we should change our name from International Academy of Matrimonial Lawyers to International Academy of Family Lawyers.   There was a lively debate with quite a lot of fellows speaking in favour and quite a lot of fellows speaking against the change.   Ultimately, the Governors voted in favour of the name change – 13 in favour, 2 against and 1 abstaining.  The aim is to roll out the name change for the Los Angeles meeting in early February 2016.   We also looked at the new logo which had been prepared both in IAML and in IAFL format which, from the feedback I have had, most people were happy with. I hope you like it too.
I believe that the Sicily meeting was a considerable success and I have had some wonderful emails from fellows saying how much they had enjoyed it.   There were some magical moments, such as the lunch on the hillside when we went to Mount Etna on Friday afternoon and two wonderful, informal happy hours held in different parts of the beautiful gardens of the San Domenico hotel, one with a view of the Greek theatre and the other one with a view of Mount Etna.   This was the culmination of nearly three years of planning and had the best attendance of any meeting ever – nearly 280 people.   Although I loved it, I am looking forward to stepping back somewhat from the actual organisation of the meetings. Luckily Donna and my long-suffering PA Joanna and her husband John were prepared to work all available hours to make it the success it was. Huge thanks to them.
I had a wonderful week's holiday with the family in the Aeolian Islands and at Cefalu in Sicily before returning to the office on 21st September, refreshed and ready once again to do business.  
After a quick catch up meeting to work out an action list for IAML issues on Tuesday 22nd September, I left for the European Family Law conference in Trier very early on the morning of Thursday 24 September.   This is an important annual conference held in Germany which attracts many family lawyer practitioners.   Academics and officials involved in international family law matters from around Europe.  There were 12 IAML fellows there and I made sure that I handed out the IAML ribbons to put on their badges and had more than enough brochures to hand around to the 100 or so delegates.  The purpose was recruitment.  I was helped enormously by London fellow Tim Amos QC who chaired one of the sessions, by Isabelle Rein-Lescastereyres who was one of the key speakers and by European Chapter President Mark Harper.  We spoke to many family lawyers from Europe and shared the IAML message.  In particular, there were representatives from Eastern European countries who were very interested and it was wonderful to be able to publicise the forthcoming Berlin European Family Law conference in November as a focal point to start those delegates thinking about IAML.
The following week, after some very helpful discussions to do with social media, branding and the website with Tom Sasser, Rachael Kelsey, Donna Goddard and Nancy Berg, I set off on Wednesday 30 September for the joint IAML/Hanson Renouf Family Law conference in Jersey.  Jersey fellow Barbara Corbett has suggested that we might like to join forces with her in putting on this conference, particularly to attract local family lawyers from the Channel Islands.   Many IAML fellows were present – time for the ribbons and brochures again – and the conference on Thursday 1 October, which was the day co-hosted by IAML, covered complex areas such as European legislation, enforcement of orders and spousal maintenance comparisons which created an extremely interesting, illuminating and scholarly day.   Everything was organised by Barbara Corbett and her firm extremely efficiently and the conference was chaired by London fellow Suzanne Kingston who had also facilitated our Strategy Day in Sicily.  Many high-profile family lawyers spoke and one of the speakers was Lord (Arthur) Hamilton, formerly the senior Judge in Scotland, who is a contact of Rachael Kelsey's.  This was another fine opportunity to fly the IAML flag and many thanks go out to Barbara Corbett for all her work relating to this.   I believe we will have at least 3 new Channel Islands fellows as a direct result of it, but this is also about highlighting our existence and our work.
We are now urgently working towards the new website. Now that Donna Goddard has got the Sicily meeting over and done with, she has been working, together with a number of fellows, to integrate the new management system (Membee) in readiness for the collection of dues and the Los Angeles meeting in early February.  This will dovetail in with the new website, alongside which we will be introducing social media expertise and new branding with the new name early in the New Year.  The website provider has been chosen and everything is on track.
On top of this, there is a lot of work in getting ready for the IAML European Family Law Conference in Berlin which  is designed for both IAML fellows and, importantly, for those young lawyers who are future IAML fellows and who need to have exposure to the complexities of international family law at an early stage of their careers.  It is a one and a half day conference from 26 to 28 November with a welcome reception, two dinners and a happy hour and plenty of opportunity for people to mix.   I would like to see this as an annual event in different European cities where we would hope that local practitioners would attend and learn about IAML as well as many other Europeans.   I would like IAML to be seen as the body which has the ability to provide the best and most relevant education to practitioners on international family law issues in a number of different parts of the world.   I would like similar programmes to be rolled out outside Europe.  This is currently a European Chapter initiative and we are already discussing with the US ways in which something similar can be done there.  
My plans for New Delhi 14 to 18 September 2016 are going pretty well and I will be travelling out there in January for the second and final recce to make sure that everything is in place.  Our agents do seem to be very good and I will also be employing the services of Mark Pursals from Judy Lane Consulting who has worked with us on a number of meetings and knows what we are all about. 
---