President's Blog
Posted: 15 Apr 2016 by William Longrigg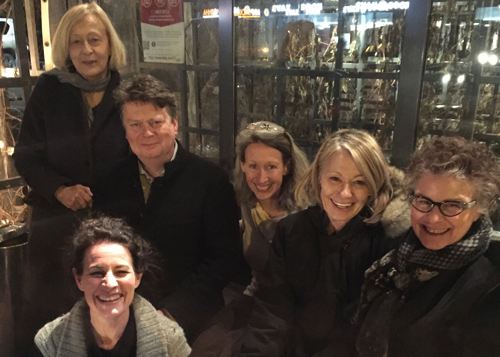 My last 'blog' was posted on 24 February and, as usual, a great deal has happened since then.
On Saturday 27 February I travelled out to Moscow with a number of the IAFL fellows.
For a number of years now, we have worked to increase the IAFL's visibility in Eastern Europe in general and the Russian Federation, in particular. At present we have two fellows in each of Russia, Poland and Ukraine. The Executive Committee is keen to build upon this number by increasing our profile throughout the region, with a view to recruiting other excellent international family lawyers from Russia and beyond. To this end, Dr Kerstin Niethammer-Jürgens, Elga Syukiyaynen, very ably assisted by my Parliamentarian, James Stewart, put together a marvellous cross-border conference which took place in Moscow from Sunday, 28 February to Tuesday, 1 March. It was attended in addition to those mentioned above by a good number of other loyal IAFL fellows – Nancy Berg, Anne-Marie Hutchinson, Rachael Kelsey, Alain Berger, Alain Cornec, Véronique Chauveau, Charlotte Butruille-Cardew, Dr Soma Kölcsényi and of course Donna Goddard who did a lot of the planning.
This conference was ground-breaking in so far as it was the first family law cross-border conference which focused on the Hague Conventions, as well as other international family law issues ranging from jurisdictional disputes to international marital agreements. It was attended by more than 70 high profile international family lawyers from Russia and other parts of the world. These included prominent family lawyers from all over Russia including Moscow, Saint Petersburg, Yekaterinburg and Novosibirsk, together with senior figures from the Moscow Bar and Russia's Central Authority. Other delegates and speakers attended from the United States, Canada, France, Germany, Ukraine, Scotland and England.
After a great welcome reception on the Sunday evening, the first day of the conference focused on international child abduction, in particular, the Hague Conventions of 1980 and 1996. Speakers included Elga Syukiyaynen, Anne-Marie Hutchinson OBE QC (Hon), Véronique Chauveau, Dr. Soma Kölcsényi, Nancy Zalusky Berg and Dr Kerstin Niethammer-Jürgens, who had been team leader of the EU-financed project on the "Implementation of the Hague Conventions in Russia". There was a lively dialogue between those present as the 1980 Hague Convention on International Child Abduction has not yet been fully implemented between Russia and the United Kingdom. 
I have no doubt that the connections forged at the Moscow conference between leading experts in this field from across the world will increase understanding of the importance of the conventions and pave the way to the full implementation of treaties which have done so much to combat the scourge of international child abduction as between Russia and other convention signatories.
The second day of the conference focused on financial and jurisdictional issues, with an emphasis on the jurisdictional and financial aspects of divorce. Speakers included James Stewart, Julie Losson, Rachael Kelsey and Charlotte Butruille-Cardew. Our speakers focused on Russian family law in the international arena, highlighting the profound differences in the treatment of trusts, marital agreements and conflicts of jurisdiction between other countries, including England. It was noted that, while a relocation from Russia to another country could be highly beneficial or necessary for tax, succession, economic or political reasons, in the absence of proper mechanisms such as marital agreements and possible business restructuring being put in place, such a move could be expensive in the event of a divorce. Indeed the reputation of my own home jurisdiction, England, as the "divorce capital of the world", is to a great extent bolstered by the succession of Anglo-Russian cases passing through the London courts.
The importance of the conference was such that we had in attendance consular representatives from the British, French, German and US embassies in Moscow. 
In addition to the first-rate presentations given by IAFL Fellows, I was particularly pleased to welcome a number of leading Russian and Ukrainian family lawyers who delivered excellent papers. These speakers included Irina I. Romanova (Russian Central Authority), Tatiana Starikova (a senior partner with the leading Moscow firm YUST), Evgeny Raschevsky, (head of International Arbitration and Litigation at Egorov Puginsky Afanasiev & Partners (EPAM), Moscow), Iryna Moroz (AGA Lawyers, Kiev, whom we have seen at other IAFL events), Liuda Yablokova (St Petersburg Bar), Marina Zakharina (Moscow Bar) and Professor Olga Khazova (Moscow). Thanks also must go to a number of young lawyers who gave excellent presentations including Elena Vasilyeva (Charles Russell Speechlys, London) and Edward Floyd (Penningtons Manches, London).
Particular thanks must go to Julie Losson and her firm (Villard Cornec & Associés, Moscow and Paris), and Donna Goddard who both ably assisted Kerstin, Elga and James with this great event and the staff at the German-Russian house where the conference took place and which was well known to Kerstin from her time in Moscow.  Many thanks also to the conference sponsors:  Villard Cornec of Paris, Aronson Mayefsky & Sloan of New York and Mayerson Abramowitz and Kahn of New York, all of whom helped to fund attendance at the conference for Moscow-based law students.
The weather for the conference was amazing (sun and snow), the social events, which included a Sunday evening reception and unforgettable meal at one of Moscow's leading Georgian restaurants, were all great fun and well attended.
So back to London on Tuesday 1 March to catch up with a number of IAFL issues, and in particular meetings about the IAFL committees with Rachael Kelsey and Suzanne Kingston with a view to trying to accommodate in the new structure those with a particular skill or passion, work with Donna on the website and a ton of other matters, work with Joanna with plans for the New Delhi meeting in September and with Maggie Rae and Suzanne Kingston on the education programme for New Delhi. 
On Wednesday 16th March I left for the 19th Annual Family Law conference organised by the University of the Western Cape and Miller du Toit Cloete, the law firm of Cape Town fellow Zenobia du Toit.   This was my third time and I was greatly looking forward to it as it had always been stimulating.
This conference was very well attended as always. The IAFL fellows included Sir Peter Singer, Zenobia du Toit, Bev Clark, Jacky Julyan SC, Sandra van Staden, Amanda Simpson, Suzanne Kingston, Rachael Kelsey, Stephen Page, Barbara Connolly QC and Professor Marilyn Freeman. 
It is always a bit of an effort  getting straight off the plane and going into a two day conference but at least the time difference was not an issue.  We heard some really good talks on surrogacy and ART generally, then arbitration which Suzanne Kingston and Rachael Kelsey talked about in advance of the training session they were doing in South Africa after this conference.   There were sessions on care and contact with children, 1980 and 1996 Hague Conventions, maintenance in South Africa and the Hague Convention on the International Recovery of Child Support.
There was a wide variety of speakers, including Professor Katerina Boele-Woelki from The Netherlands who is a well known speaker at European family law conferences.  We also heard about the Customary Marriages Act in South Africa, Muslim elements of family law and the law on the division of property and other financial issues on divorce in Zimbabwe (which sounded remarkably familiar to the English lawyers present).
I was invited to chair a session with Susan Abro from Durban which covered a wide range of speakers talking on subjects as wide as expert evidence, ante-nuptial agreements, parental alienation, dealing with trusts and the South African Accrual Regime.  
The huge advantage of this conference was to be able to meet a wide range of people and to give a good public plug to IAFL, to include giving everybody a brochure and explaining to them en masse and individually what it is that we do.  Zenobia is to be congratulated for putting so much into this annual conference which is really special and for her ongoing support of IAFL and enabling us to fly the flag for IAFL so thoroughly. The conference ended with a fabulous evening at Zenobia's stunning, newly rebuilt house.
Back to London for Holy Week and a flurry of pre-Easter activity on the client front and away to Shropshire for Easter with the family until Wednesday 30th March. Bliss!
I will also be attending the New York mini-meeting from 14 – 16 April. In South Africa I spotted on the timetable that I was down to be doing two talks there – one on Common Law and Civil Law and the other on international discovery of documents. At the time I made a mental note to try to get out of the latter obligation – but sadly it slipped my mind so I have had to prepare talks on both subjects. This should be a great conference and I will be reporting on it in my next 'blog'. These initiatives are I believe of huge value to IAFL in raising profile, sharing our expertise with younger lawyers and looking for the brightest and the best to be our fellows of the future. Many thanks to Nancy Zalusky Berg for spearheading this.
By way of update on the website, the new website developers, Front Media, have designed the new website around our logo and branding guidelines and are in the process of building the new site based on that design. They are currently working on the design of the member profile pages. Donna will begin the testing very soon with a view to the first release going live before the IAFL European Chapter meeting in Amsterdam in May.
On the subject of Amsterdam, I hope to see as many of you there as possible. I am so looking forward to it. It is one of my favourite places and everything you could wish for from a European city. We will be having a day at The Hague too which will be fascinating and I have never been there. Many of us know that Mark Harper and his partner Hari certainly know how to organise an amazing meeting. I intend to go for a cycle ride among the tulip fields on the Sunday (that Monday is a holiday in the UK so Dorothea and I will be making the best of it).
Thank you to all of you for your ongoing help and support.
---