The response of the legal profession to the war in Ukraine
Posted: 28 Jun 2023 by Sandra Verburgt and Annie Dunster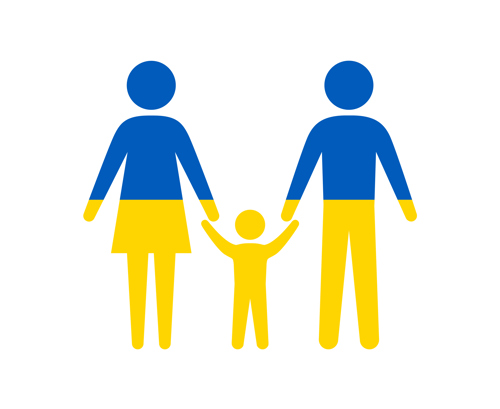 IAFL Webinar:  The response of the legal profession to the war in Ukraine
An overview of a webinar held on Wednesday 21 June organised by the IAFL Relief for Ukraine Committee
welcomed all attendees.  The webinar started with a moving account of daily life in Ukraine from . There is no longer talk of a work-life balance; in Oksana's office they talk of war-life balance. Everyday life is complicated by missile attacks, blackouts, drone attacks and curfews. An underground parking lot serves as shelter and is now set up as a working facility so that work can carry on regardless of the disruption and devastation that is going on outside. The courts are functioning, adapting and making the most of digital platforms.  Much progress has been made in e-governance and e-judiciary. Colleagues are working mainly from the office as there is water and heating which wasn't always the case at home, particularly during blackouts and the winter months. Daily life is complicated and interrupted by missile attacks, drone strikes, blackouts and curfews. People in Kyiv have learnt to differentiate between the different sounds of the strikes. A missile shot from the sea means you have around 40 minutes to get to the shelter, by contrast a ballistic missile means you have just 4 minutes to get to safer ground. An underground parking lot is now set up as a working facility and doubles up as office space and shelter so that work can continues regardless of the impending strikes. Life goes on "we have to resist [the aggressors] and demonstrate our resilience". 
Our next speaker was who is currently providing assistance and expertise to the Office of the General Prosecutor (OGP) in Ukraine notably with regard to conflict-sexual related violence (CSRV). Florence noted that the main challenge with CSRV is the multiple agencies involved in the investigations who all need to have access to files and evidence which requires trust and collaboration. Digital tools help accessibility. There are now 4 prosecutors in Kyiv focussing on CSRV crime. Further, there are challenges on linking events on the ground up to the chain in command. Understandably, Ukrainians were keen on getting results in court and therefore initially focusing on prosecuting the men on ground. It takes perseverance and strength to pursue these investigations, linking the events on the ground to the authorities While people may think that the ICC should be playing a key role, crimes must be investigated under Ukrainian law which in turn needs to incorporate international law. Currently crimes against humanity is not part of Ukrainian law which provides another obstacle. 
provided an overview of the IBA's assistance in addition to having actively spoken out against the war, the IBA's focus extended beyond financial assistance to the two Bar Associations in Ukraine.  As a result of engagement with the OGP, the IBA had signed a Memorandum of Understanding with the OGP, the National School of Judges, the Ministry of Defence and the Ministry of Justice all focussing on accountability and justice. One digital aid founded by the IBA is the Eye Witness to Atrocities mobile camera app which allows the user to take photos and videos that are embedded and cannot be tampered with so can be used as evidence in a court of law. There are now over 50,000 pieces of evidence that are held securely in a chain of custody which demonstrates that the information is original and has not been tampered with in any way. Ukraine is technologically sophisticated which has helped the conflict to be one of the most documented conflicts in history. Mark noted that the vast amount of trials arising from the war in Ukraine will be domestic and not international. With this in mind, the IBA was providing a training course for defence lawyers as well as a course for conducting war crimes tribunals.  A great part of Ukraine's legacy Mark surmised will be its ability to ensure trials are impartial and fair to international standards.  
spoke about the work that the FBE had undertaken in connecting lawyers on the ground, and the role that the FBE's human rights commission had played in work with un-accompanied minors to ensure that they received appropriate legal representation. The work had not focussed solely on Ukraine but also with surrounding countries particularly Poland. The FBE is a federation of bar associations and  connected in this crisis with the Kyiv Bar and the Ukrainian National Bar Association. commented on the work of the Krakow Bar Association in identifying lawyers in Ukraine who needed assistance; she thanked in particular the IAFL Fellows in France who had been instrumental in providing some medical supplies. 
Oksana concluded the webinar by providing assurance that life in Ukraine continued.  Long may that be the case.
Sandra Verburgt, President, European Chapter and Chair, Relief Committee for Ukraine
 Annie Dunster, IAFL Executive Director
---