IAFL USA & Canadian Chapters Meeting 2019, San Francisco
Event date: 15 May 2019
---
Where and When
Fairmont San Francisco
950 Mason St
San Francisco
CA 94108
USA
Start: Wednesday 15th May 2019 at 12:30 PM
End: Sunday 19th May 2019 at 10:00 AM
Click here to register for San Francisco
---
Map and Directions
---
Details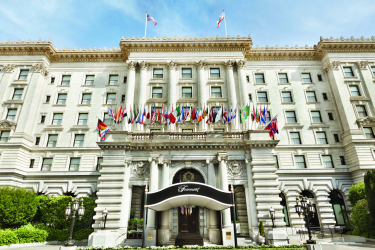 San Francisco is a home to a vast array of cultures.  From world renowned chefs to historical trolley cars to the many unique shops of Haight-Ashbury, San Francisco has a vast array of experiences for you to take part in during your visit to this iconic city. Here you can experience a variety of cultures coming together in a mix-and-match atmosphere not seen in most cities.
Discover all this city has to offer; From music to art exhibits, sea life to history, night life to culinary adventures. Explore the Muir woods, the Golden Gate Bridge or one of the many other options in this amazing city.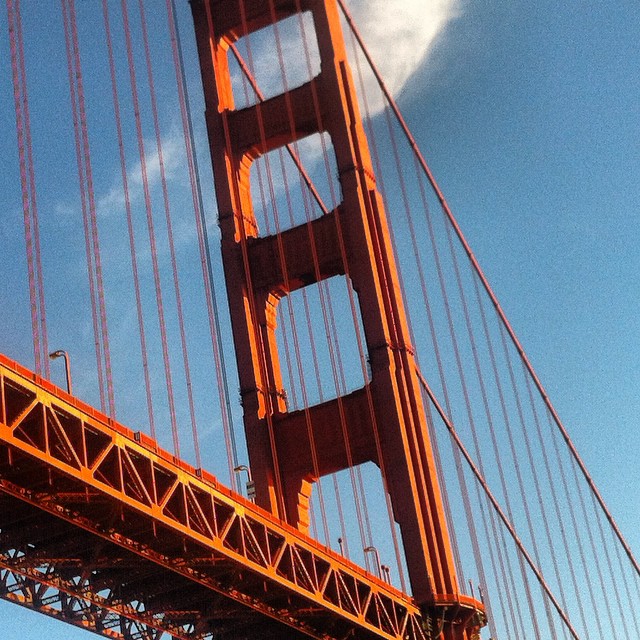 Our meeting in San Francisco, USA will take place at the The Fairmont Hotel at the top of Nob Hill.  This boutique property has a AAA Four-Diamond distinction, and is the city's most recognized, iconic hotel. From the grand stair case to the art work, you may find yourself swept away by the grandeur of this elegant 606-room hotel. 
We will address interesting, timely and intellectually stimulating issues affecting our local and international practices including; Parental gatekeeping; ART/Surrogacy around the World; Brexit and its effect on family law; Forced Marriage: An Update; Property Distribution and Support trends on the West Coast; and Saturday's cultural session.

The dress code is casual for our San Francisco Meeting. Cocktail attire for the President's Dinner is recommended.
Hotel
The Fairmont Hotel
950 Mason St.
San Francisco, CA 94108

Fairmont San Francisco presents an awe-inspiring picture of historic San Francisco. The grandeur of the fully-restored hotel coupled with its reputation for impeccable service promises a truly memorable experience. Central to the Financial District, Union Square and Fisherman's Wharf, the Fairmont Hotel is located at the only spot in San Francisco where each of the city's cable car lines meet. Fairmont also offers two fabulous restaurants and lounges. With a panoramic view of the city and the day from high atop Nob Hill, Fairmont San Francisco holds an unmatched blend of elegance and superb service for an unforgettable stay. Because this is an historic property, there are a variety of room types and very few, if any, are the same.  The main hotel rooms are built for travelers from the 1900s so some rooms have closets as large as the bedroom for all those steamer trunks.  The tower rooms give you the best view of the city. 

The hotel rooms available are:

Fairmont Queen Room Main Building $349 plus taxes
Fairmont King Room Main Building $379 plus taxes
Fairmont Deluxe Rooms (Tower) $429 plus taxes
Fairmont Signature Room (Upper Floors Tower) $479 plus taxes
Taxes are:
Occupancy tax remains at 14.585%. (subject to change).
The Business District Assessment Fee (T.I.D.)  2.25%..

To book please use the link below:
https://aws.passkey.com/go/iafl


IAFL San Francisco Papers and Resources
Schedule
WEDNESDAY, MAY 15, 2019
Registration Opens
12:30 p.m. – 6:30 p.m.
Location: Lobby

The San Francisco City Tour
2:00 p.m. - 5:30 p.m.
Board Buses at 1:45 p.m.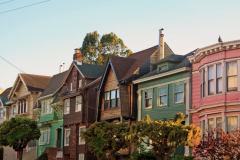 The perfect introduction to the city of San Francisco.  Let our professional tour guides take you on a fun-filled journey through vibrant neighborhoods such as; North Beach; Chinatown; Fisherman's Wharf; Ghiradelli Square; Union Square; The Embarcadero' and historic areas of the city by the bay. Some of the famous sights you will see up close may include the Transamerica Tower, Coit Tower, the Ferry Building and the iconic Golden Gate Bridge.

Welcome Reception
6:30 p.m. – 8:30 p.m.
Fairmont Hotel
Pavilion Room and Roof Garden with Special Musical Guests
THURSDAY MAY 16, 2019
Breakfast
6:30 a.m. - 8:30 a.m.
Executive Committee Meeting, USA Chapter
7:00 a.m. - 8:30 a.m. 
Garden Room
Education Program
8:30 a.m. – 12:00 p.m.
Gold Room

"Opening Remarks" - Jorge Cestero
"Brexit and Family Law: Perspectives for the Non-European" - William Longrigg, London, England and Sandra Verburgt, The Hague, Netherlands
"Forced Marriage, An Update" - Moderator: Peter Buchbauer, Winchester, VA, USA
Panel - Jeanne Smoot, DC, USA, Anne-Marie Hutchinson OBE Q.C. (Hon), London England and Deepa Mattoo Toronto ONT, CAN
10:00 a.m. - 10:40 a.m. Coffee Break

"ART/Surrogacy Around the World: An Update" - Co- Moderators: Amy Hickman, Boynton Beach, FL, USA and Anne-Marie Hutchinson, London, England, UK
Panel - Stephen Page, Brisbane, AU, Shirley Levitan, Toronto, ONT, CAN
Ferry Building Taste Tour
9:00 a.m. – 11:30 a.m.
Meet in Lobby at 8:45 a.m.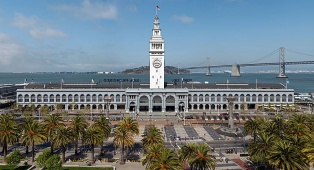 Located on the waterfront, The Ferry Building with its dramatic clock tower on top of the building has been an icon of San Francisco since the turn of the century. This historic hub – reimagined for modern times – is an elegant San Francisco showcase for some of the Bay Area's best food artisans, and features internationally acclaimed cheese, charcuterie, and chocolate.
Your epicurean concierges will lead you on a private tour of the wonderful gourmet specialty food stores in the Ferry building. Learn about the famous farmers, celebrity chefs, and culinary creators behind these edible delights. Bottled water on coach.

Escape from Alcatraz Tour
12:00 p.m. - 5:00 p.m.
Note: Meet in Gold Room for Lecture at 12:00 p.m. The speaker before the Alcatraz Tour, Jolene Babyak, is the daughter of the prison's associate warden and lived on the island for nine years. Please make sure to pickup your box lunch to eat during the speaker's presentation before we take the 10 minute drive to the ferry.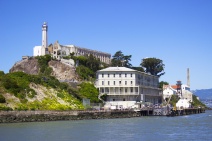 Experience the many moods of Alcatraz, aptly dubbed "The Rock", with a visit to the only island prison that is also a part of the National Park Service. Once home to some of America's most notorious criminals, the federal penitentiary operated from 1934-1963 and brought an air of mystique to "The Rock." After a brief ferry ride across the beautiful San Francisco bay you will pick up audio sets and discover what life was really like on The Rock for infamous characters such as Al Capone, "Machine Gun" Kelly, and Robert "Birdman of Alcatraz" Stroud.  These infamous inmates were among many who helped establish the island's notoriety as arguably one of the world's most legendary prison.  Box lunch in Gold room and additional bottled water included on coach
Golf Outing to Presidio Golf Course
1:00 p.m. - 5:00 p.m.
On own for transportation

Located within a national park, San Francisco's Presidio Golf Course is renowned for its spectacular forest setting, as well as its challenging play. Once restricted to military officers and private club members, today the 18-hole course is open to the public.
John O'Connor who is filling in for Ken Altshuler our regular Golf Chair, has reserved tee times beginning at 1:00 p.m. on Thursday, May 16. Those with a competitive spirit can compete in with recognition for men's and women's longest drive and closest to the hole.  Club rental will be available at the course for $50.  If you have questions on Golf contact John O'Connor at johnpoconn@msn.com or call +1-415-606-4616.
New Fellows/First Timers Dinner for Fellows attending their first IAFL meeting as a Fellow and their guests to meet and mingle with IAFL Executive Committee and their guests
7:00 p.m. - 10:00 p.m.
Original Joe's
Meet in Lobby at 6:45 p.m.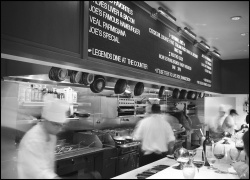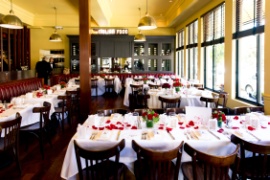 The first Original Joe's was established in San Francisco by Louis Rocca and Tony "Ante" Rodin in 1937; it is currently owned and managed by Rodin's grandchildren. Located in the North Beach Neighborhood, it has won a myriad of awards and accolades over the years, including; the San Francisco Chronicle's Five Favorite Burgers in 2018; SF Gate's Most San Francisco Restaurants; and American City Business Journal's San Francisco's 5 Favorite Restaurants in 2017.
Dinner Dine Arounds for Fellows and Guests
Enjoy an evening with Fellows and their guests at a variety of wonderful restaurants. Dine Arounds are here!  Click here for the options.
We are looking forward to being with everyone in San Francisco in just a few weeks! We have, for the last several years, arranged dine arounds which have proven to be a terrific way to spend time with friends and fellows from around the world. The groups are small, between eight and twelve this year, and we have reservation at some of the most iconic and fun places in the city. We even have reservations at one restaurant that ordinarily doesn't take reservations! So whether your desire is Vietnamese, Chinese, Italian or American, we have something to suit everyone's fancy.
Please sign up quickly and only by responding to my associate, Christina Vineyard (christina@crewlawgrouppc.com) and my law clerk, Ashley Williams (ashley@crewlawgrouppc.com) so we can keep accurate records.  Once we are full, we are full. We will try to accommodate others, but we cannot make any promises.
FRIDAY, MAY 17, 2019
Breakfast
6:30 a.m. – 8:30 a.m.

IAFL Canadian Chapter Meeting
7:00 a.m. – 8:30 a.m.
Empire Room

IAFL USA Chapter Board of Managers Meeting
7:00 a.m. – 8:30 a.m.
Garden Room

General Session

8:30 a.m. – 12:00 p.m.
Gold Room

"Parental Gatekeeping" - Moderator/Lead: Deborah O. Day, Psy.D., Orlando, FL, USA,
Panel - S. Margaret Lee, Ph.D., Mill Valley, CA, USA, Richard West, Orlando, FL USA & Makiko Mizuuchi, Tokyo, Japan 

10:10 a.m. – 10:30 a.m. Coffee Break

"West Coast Cool: Property Distribution and Support Trends in West Coast Family Law" - Moderator: Hon. Diana Gould-Saltman, Los Angeles, CA, USA
Panel - Robert Blevans, Napa, CA, USA, Ronald Granberg, Salinas, CA, USA, David Starks, Seattle, WA, USA & Scott Booth, Vancouver, BC, CAN
Golden Gate Park and De Young Museum Tour – Spouses and Special Guests Tour
8:00 a.m. - 11:30a.m.
Board Buses at 7:45 a.m.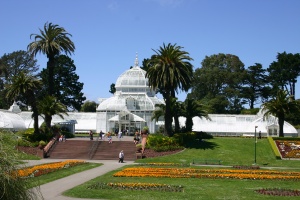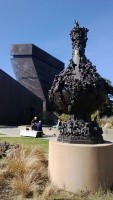 You will see the many sights in the famous Golden Gate Park, which covers over 1,000 acres and is larger than New York's Central Park. Filled with museums, gardens, trees, lakes and wildlife, it's easy to see why this park is the third most visited park in the United States. Golden Gate Park is also home to two of San Francisco's premiere museums, the De Young Art Museum and the California Academy of Sciences. Tours of the De Young Museum will be led by a VIP Docent.  Located within minutes of each other, guests can enjoy a morning at their leisure amongst nature and art!
Golden Gate Bridge Walk and Afternoon in Sausalito
1:00 p.m. – 5:00 p.m.
Meet in Lobby at 12:45 p.m.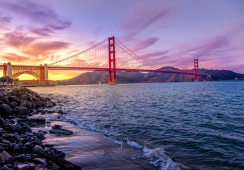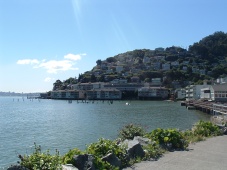 One really can't appreciate the size and height of the Golden Gate Bridge unless they've walked on it! At mid-span you are 220 feet above the water's surface, and passing ships below look like small toys. The walking tour of the Golden Gate Bridge starts at the Strauss Statue with a discussion on the history of the bridge.  While on your walk you will enjoy the spectacular views of the Bay and the Cityscape from new heights.  Guests will learn who named it, how the structure cheated the law of concrete and steel, and what members of the Halfway to Hell club did to join it. The 1.7 mile walk will end at Vista Point where guests can take front row pictures of San Francisco (There will be the option to ride across the bridge instead of walking). Next it's off to the charming city of Sausalito where guests will enjoy free time on their own to explore. Then it's back to the city via a beautiful ferry ride across the bay!
SATURDAY, MAY 18, 2019
Breakfast
7:00 a.m. – 9:00 a.m.

IAFL USA/Canadian Annual General Meeting
9:00 a.m. – 10:00 a.m.
Gold Room

Education Program
10:15 a.m. – 11:45 a.m.
Gold Room

Sanctuary Cities and the Family - Moderator Marlene Eskind Moses Nashville, TN USA 
Panel - Jill Hersh San Fransico, CA USA, Carl Witmeyer, Ashland, VA, USA Jeffrey Brend Chicago, IL, USA and Karon Bales Toronto, ONT, CAN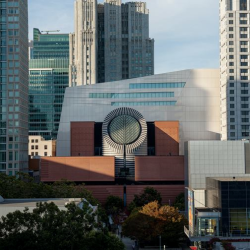 Private Tour of SF MOMA
1:00 p.m. – 4:30 p.m.
Board Buses at 12:45 p.m.

The San Francisco Museum of Modern Art (SFMOMA) recently re-opened in May 2016 to excited fanfare after a three-year closure. Designed by renowned architecture firm Snøhetta, the newly transformed and expanded museum showcases it's celebrated collection over ten stunning floors.  The group will start off with a guided tour then have 1.5 hours to explore the gallery on their own before being bused back to the hotel. 

President's Reception & Dinner
6:30 p.m. – 10:00 p.m.
Fairmont Hotel Crown Room.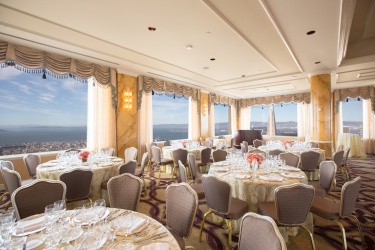 Join Jorge Cestero, IAFL USA Chapter President and Sarah Boulby IAFL Canadian Chapter President for a cocktail reception, delicious dinner, and superlative entertainment.
The Crown Room is on the top of the Fairmont Hotel Tower.  Enjoy 360 degree views of the city from the highest point in the city.
 



Refund Policy
Full refund of registration fee if cancellation occurs before 12th of April 2019 less $100 administration fee per person (credit card costs and expenses of the administrator).  No refund of registration fees thereafter.  Tour and event fees are refundable if cancellation occurs before 12th of April 2019 only if the Academy is not charged.  Send your email request to cathy@bestmeetings.com by this date.  You may substitute another person without penalty. 

Hotel cancellation policy is 24 hours prior to the day of arrival.


IF YOU HAVE ANY QUESTIONS OR INQUIRIES, PLEASE CONTACT CATHY OLSEN or JIM LOUIS AT +1-952-858-8875 or +1-800-958-8875. OR BY EMAIL AT jim.louis@iafl.com or cathy.olsen@iafl.com 



Sponsorship Opportunities
The IAFL USA and Canadian Chapters Meeting has various sponsorship opportunities.
Please click on the link below to see the opportunities.
Sponsorship Opportunities
Post Event Opportunity
UC Hastings Law's International Family Mediation training is being online May 6 and then in person on May 20th at the UC Hasting Campus.  For more information follow the link below.
https://uchastings.webconnex.com/FamMed
Weather in San Francisco
Weather in May should be in the mid 60's during the day and mid 50's in the evenings
Attire
The dress code is casual for our San Francisco meeting. Cocktail attire for the President's Dinner is recommended.
Airports
https://www.flysfo.com/  San Francisco International Airport (SFO) is 13 miles from the hotel. *Train/Bus avaliable to Hotel
https://www.oaklandairport.com/  Oakland Airport (OAK) is 19 miles from the hotel. https://www.flysanjose.com/  San Jose International Airport (SJC) is 51 miles from the hotel.
Photo Credits
"Pier 14" - Pixabay License
"The Fairmont San Francisco - Exterior" - Provided by The Fairmont Hotel San Francisco
"San Fransisco Bridge" - With permission from Susanne Becker, Photographer
"Row Homes of San Francisco" Artist Credit Cristie Guevara License CC0 Public Domain.
"San Francisco Ferry Building (cropped)" - JaGa GNU Free Documentation License Version 1.2
"Ferry Building Marketplace, San Francisco" - Caroline Culler Creative Commons (CC) Attribution-Share Alike 4.0 International license"Alcatraz Island as seen from the East" - Frank Schulenburg CC Attribution-Share Alike 4.0 International license
"Alcatraz Lighthouse view, San Francisco, CA, USA" - Veselina Dzhingarova CC Attribution 2.0 Generic license.
"Original Joe's Kitchen" - Provided by Original Joe's Marketing Department
"Original Joe's Seating" - Provided by Original Joe's Marketing Department
"San Francisco Golden Gate Park Conservatory of Flowers" - Markus Laber GNU Free Documentation License
"Gustave Dore bronze in front of De Young Museum, San Francisco" - codeagraphic CC BY 2.0
"Sunset over Golden Gate Bridge"- Artist Credit Jean Beaufort License: CC0 Public Domain"Sausalito"- Artist Credit Squirrel 22 License: Public Domain
"New SFMOMA" - Artist Credit SFMOMA151 CC Attribution-Share Alike 4.0 International
"The Fairmont Crown Room" - Provided by The Fairmont Hotel San Francisco
"Looking West: City Hall and CA state courts" Adam Engelhart - CC Attribution-Share Alike 2.0 Generic license
IF YOU HAVE ANY QUESTIONS OR INQUIRIES, PLEASE CONTACT CATHY OLSEN or JIM LOUIS AT +1-952-858-8875 or +1-800-958-8875. OR BY EMAIL AT jim.louis@iafl.com or cathy.olsen@iafl.com
Click here to register for San Francisco
---