IAFL's What Should We Tell the Children? in Latin-Spanish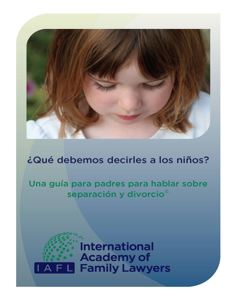 Una guía para padres para hablar sobre separación y divorcio
Cuando los padres se van a separar, lo mejor que pueden hacer es preparar a sus hijos pequeños y adolescentes para lo que está por a suceder. No muchos padres planean esta importante charla y aún menos hacen esta planificación junto y la mayoría de los padres no dicen lo suficiente cuando les cuentan a sus hijos sobre la separación.
Este libro fue diseñado para ayudar a los padres a pensar sobre esta difícil tarea y completarla: qué decirles a sus hijos cuando se están separando.
Notes
This is a reproduction of the IAFL booklet "What Should We Tell The Children" translated to Latin-Spanish. 
Purchase Options
Booklets can be purchased as detailed in the table below. Delivery will be charged at cost.
| Copies Ordered | Per copy (IAFL Fellows) | Per copy (Non Fellows) |
| --- | --- | --- |
| 1 | $10.00 | $10.00 |
| 2-9 | $7.00 | $7.00 |
| 10-49 | $5.00 | $5.50 |
| 50-99 | $4.00 | $4.50 |
| 100 or more | $3.25 with an imprint in the left inside cover reflecting your firm information | $4.00 |
Preview Booklet
Click on the link below to preview the first few pages of the booklet and see how your firm's logo and details can be included on the inside cover
---