IAFL's What Should We Tell the Children? in French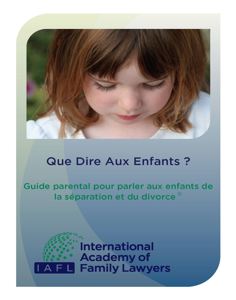 Guide parental pour parler aux enfants de la séparation et du divorce
Lorsque les parents vont se séparer, la meilleure chose à faire est de préparer les enfants et adolescents à ce qui va arriver. Peu de parents se préparent à cette importante discussion, encore moins ensemble, et la plupart des parents n'en disent pas assez lorsqu'ils parlent aux enfants de la séparation.
Ce petit livre a pour objet d'aider les parents à penser et à réussir cette tâche difficile : que dire aux enfants lorsque vous vous séparez.
Note
This is a reproduction of the IAFL booklet "What Should We Tell The Children" translated to French.
Purchase Options
Booklets can be purchased as detailed in the table below. Delivery (from the UK) will be charged at cost.
| Copies Ordered | Per copy (IAFL Fellows) | Per copy (Non Fellows) |
| --- | --- | --- |
| 1 | $10.00 | $10.00 |
| 2-9 | $7.00 | $7.00 |
| 10-49 | $5.00 | $5.50 |
| 50-99 | $4.00 | $4.50 |
| 100 or more | $3.25 with an imprint in the left inside cover reflecting your firm information | $4.00 |
Preview Booklet
Click on the link below to preview the first few pages of the booklet and see how your firm's logo and details can be included on the inside cover
---