A Parents' Guide for Talking About Separation and Divorce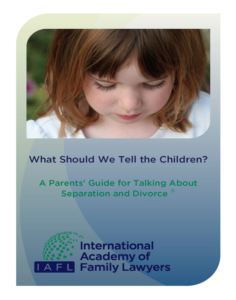 When parents are about to separate, the best thing they can do is to prepare their children and adolescents for what is about to happen. Not many parents plan ahead for this important discussion, even fewer do this planning together, and most parents don't say enough when telling children about the separation.
This booklet is designed to help parents think about and accomplish a difficult task: what to say to your children when you are separating.
Notes
This is a reproduction of the AAML booklet of the same name but in English-English rather than US-English. North American customers should purchase the AAML booklet which is available from their website.
Also available in Latin-Spanish and French.
Purchase Options
Booklets can be purchased as detailed in the table below. Delivery (from the UK) will be charged at cost.
| Copies Ordered | Per copy (IAFL Fellows) | Per copy (Non Fellows) |
| --- | --- | --- |
| 1 | $10.00 | $10.00 |
| 2 - 9 | $7.00 | $7.00 |
| 10-49 | $5.00 | $5.50 |
| 50-99 | $4.00 | $4.50 |
| 100 or more | $3.25 with an imprint in the left inside cover reflecting your firm information | $4.00 |
Preview Booklet
Click on the link below to preview the first few pages of the booklet and see how your firm's logo and details can be included on the inside cover
---
Order booklet(s)