Ukraine: the war has no child's face
Posted: 1 Aug 2022 by Oksana Voynarovska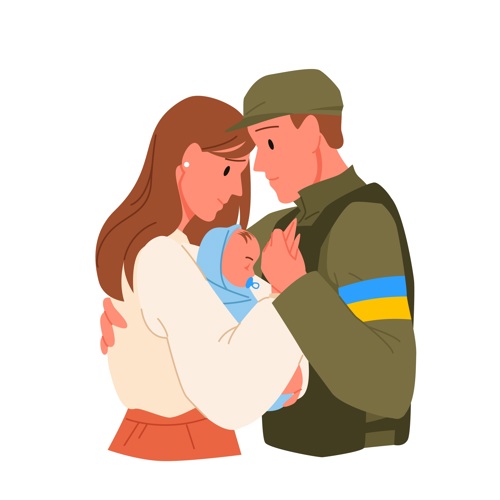 Starting on 24 February 2022 the war in Ukraine demonstrates that children are the most vulnerable population due to their age, inability to protect themselves and fragile mental health. Right now, there is no safe place for children in Ukraine.
UNICEF reports that the war in Ukraine is having a devastating impact on the country's 7.5 million children. Girls and boys continue to be killed, wounded, uprooted and deeply distressed. According to statistics, over 600 children are traumatised by this aggressive war: over 230 children were killed and over 430 were wounded ranging from minor injuries to severed limbs. But the real figures are even worse since the counting is complicated in the territories of active hostilities and newly occupied and liberated areas.
Nowadays, children in Eastern Ukraine are caught in the middle of the war being exposed to injury, hunger and cold. They continue to face constant shelling, lack of food and basic items, hide in bomb shelters in sub-zero temperatures. Humanitarian needs are multiplying by the hour as the fighting goes on. Even later children will be at a heightened risk due to mines and unexploded remnants of war.
Ukrainian children are suffering from psychological trauma: death of relatives, the experience of shelling, loss of safe place and a sense of stability are not the conditions for the children's wellbeing. The distress causes nightmares, depression, social isolation and anxiety. Such a severe trauma can reverberate for a long time.
Approximately 4 million children sought to flee the hostilities and danger both within Ukraine as internally displaced persons and abroad as refugees. A growing number of minors are relocating on their own, without family support, in an escalating child rights crisis. Herewith, when children cross the border the risk of violence and abuse, trafficking and exploitation soars.
Almost 200 000 children were forcibly relocated to Russia, many of them are separated from their families and had to undergo so-called filtration camps. Even more, the Russian administration has already announced the plan of introducing a simplified procedure to adopt displaced children from Ukrainian. Moreover, Russia forces those children who stay in the newly occupied Ukrainian territories to study the Russian language, literature and history and then pursue a Russian degree that won't be recognized in the civilised world.
However, the most devastating are cases of children, both girls and boys, even infants, that were mercilessly raped by Russian soldiers, sometimes right in the eyes of their parents. Among the total known number of at least 400 victims, minors constitute a significant part.
Nevertheless, despite all the misery and horror that Russia brought with the war Ukrainian children constantly demonstrate heroic acts. Liza, a 15-year-old girl, managed to evacuate 4 wounded adults from the occupied town of Popasna. She had to drive the car with both shot legs on the mined road and under shelling of Russian soldiers for almost 30 kilometres. She noted later that the adults needed medical help, so could she leave them under the fire?
Sofiia, a 9-year-old girl from a multi-child family in Chernihiv, cut her long hair to get 3,500 hryvnias (around $100) and transfer the money to the Ukrainian army. She says, "If I can help at the age of 9, why people with more opportunities cannot do so?" And these are not isolated cases.
Right now, millions of Ukrainian children are in danger: massive deaths and devastations cause mental and physical trauma and leave severe scars in vulnerable children's hearts that may not heal for a long time. Nowadays, any aid would be appreciated: stand with Ukraine, Ukrainian children need your help!
Oksana Voynarovska
IAFL Fellow (Ukraine) 
---