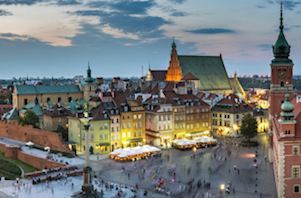 Building on successful recent IAFL conferences for younger delegates, this conference took place in Warsaw from Thursday 16th to Friday 17th November 2017. 
The conference was held at the centrally located Mercure Warszawa Centrum Hotel and saw delegates from over 20 jurisidictions come togther for a one and a half day education programme. The Polish Bar Association generously hosted our Welcome Reception and our delegates had an opportunity to dine at two of Warsaw's prestigious restaurants, Pod Gigantami and Strefa. 

The capital of Poland, Warsaw was once described as the 'Paris of the North' and until WWII it was believed to be one of the most beautiful cities in the world. Its widely varied architecture reflects the city's long, turbulent history, from Gothic churches and neoclassical palaces to Soviet-era blocks and modern skyscrapers. The city's Old Town was restored after the heavy damage it suffered during WWII which left over 85% of its buildings in ruins. Its heart is Market Square, with pastel buildings and open-air cafes. The Monument of the Warsaw Mermaid at its center is the city's symbol.
Please find below links to the conference programme, papers, delegate list, a guide to Warsaw, Natalia Ołowska-Czajka's Warsaw Recommendations and details of CPD hours for the conference.
---