IAML Student Internship Report
Posted: 04 Dec 2014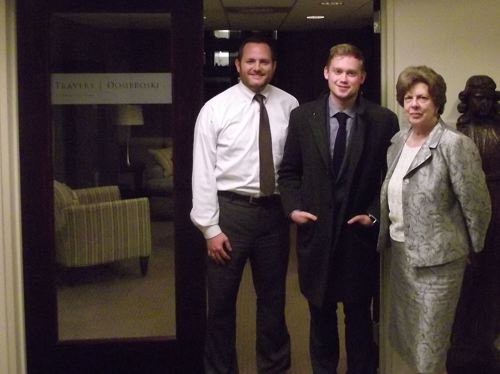 By Michael Walker
Now in its third year, the International Academy of Matrimonial Lawyers ran an essay competition for Family Law students of Cambridge University. The extraordinary prize for the two winners would be the opportunity to take part in an internship in any area of the world where there was a willing IAML fellow to act as a host.
Family Law has been something I have been very interested in for several years, ever since taking work experience at the Northern Irish family bar after my first year of university. After having studied the module in my second year, my interest in the area academically compelled me to take Family Law as a dissertation topic in my final year.  It was there that I came across in my opinion the worrying trend in the UK of reducing birth parents' rights in favour of speedier and more frequent adoptions. I wrote my essay on this topic and was incredibly proud and in all honesty overwhelmed on discovering that I had been selected as the beneficiary of one of the two studentships; the phone call breaking the news to my parents is something that'll stick with me for a very long time.
I immediately chose Boston as my destination; the recently deceased Mayor of the city, Thomas Menino, described it as "a buzzing, amazing, history-making place", and I couldn't have agreed more. A host was found in Boston, and so it was decided I would become an intern at Travers Dombroski PC, one of the magic circle of family law firms in Boston, where my Host would be Margaret Travers, one of the first female named partners in Boston.
Straight off the flight, I went to the office where I was plunged right into the last few frantic days of settlement discussions before the first trial date at the end of the week. This meant that for the first week and a half in particular, I was incredibly busy, and was lucky to have a great deal of court exposure. My first day in court related to those divorce settlement talks, where I was tasked with client management throughout the day. This was brilliant exposure to that vital skill in family law, and it held a particular importance in that case as I was to shield our client from the overbearing opposite party. Emotionally draining, but also at times intoxicatingly exhilarating (such as the moment just outside the court room doors where I realised a last minute negotiating tactic the other side were attempting to use), I felt I learnt a huge amount and couldn't have been happier to be so immediately in the thick of things.
I also spent that first week coming to grips with the distinctions between the English and the Massachusetts family law. I was extremely lucky not only to have great exposure to a number of cases and academic literature, but Margaret was also always patient and willing to answer my frequent questions. This meant that after that first week, I was comfortable with the relevant family law, and was able to become more confident in giving my own opinion of our approach to the various cases and that of the other side. Litigation is an area that has always interested me, and the whole office gave me lots of opportunity to have time to run through the arguments surrounding a case and come back with my own constructive critique of it. Whilst vastly inexperienced in the face of the rest of the office, they were incredibly patient and gave me an avenue to express myself, which meant I learnt a great deal, and sometime contributed, even if in some very small part, to the case. 
As well as having the opportunity to draft Financial Statements, draft emails to clients, summarise depositions, sit in on client calls, go on court runs and do legal research as part of critiques of opposition approaches, I had several more days in court. This was to follow what was mostly a pro bono case, involving a mother attempting to retrieve her child. Being something both my IAML essay and my dissertation had touched upon, I found it incredibly interesting and again learnt a huge amount about client management. This involved shadowing the other named partner within the firm, Ed Dombroski ('Massachusetts Super Lawyers "Rising Star") and one of the two brilliant Associates, which exposed me to different ways of working within family law. The court case was filled with tension and was extremely antagonist, and so was a real experience, and it put into stark relief the distinctions between court in the UK and the US, in terms of how a judge is addressed, and even the fact that family law court rooms are completely public. Again, this was a really insightful experience, and particularly gave me a crash course in court room tactics and politics. 
However my time on the studentship was not solely limited to the law. I was the delighted recipient of a great deal of wild and wonderful experiences, such as being invited to the Cambridge, MA, City Hall by the Deputy Mayor, having a night out in Harvard with MIT students (during which I met an American World Irish dance champion), being bought drinks by the first person I spoke to in an Irish pub when we discovered we both had mutual friends and meeting families who live out in the wilderness of the mountains of Maine, where I was graciously invited into hand carved homes set again the most beautiful countryside, draped in all manner of animals and guns, the two of which were undoubtedly linked. In each instance, I was taken with the openness and generosity of the people, and how wonderfully random some of my experiences managed to be.
Being a keen sports enthusiast, I also got seeing the Boston Celtics and Boston Bruins, and I have been told by well-informed sources that on current form, the fact that both teams won was miraculous. I was also taken to see a fantastic play in Boston, 'Awake and Sing', a play similar to a personal favourite, 'Juno and the Paycock', and which had monologues reminiscent of poetry.
I also must give a special thank you to Margaret and Linus Travers, who not only allowed me into their home in Milton, and also their beautiful homes amongst the mountains of Maine, but were willing to let me meet the whole extended family, where I had the undeniable privilege of baby-sitting their two grand-kids, who instantly liked me cause of our mutual love of 'soccer'.
This studentship placed an opportunity within my reach which never would have been otherwise, and now facing the mountain which is securing full time legal employment in a high-calibre family law firm, it has provided me with invaluable experience. I am genuinely indebted to the IAML and also those individuals who helped me such as David Salter and Nick McBride, and of course my dear hosts Margaret and Linus Travers, along with everyone at that wonderful firm on the 19th floor of 75th Federal Street Building in Boston. This studentship devised by David Salter is a truly brilliant scheme and long may it continue. Personally, it has set my long term ambition of becoming a family lawyer and one day maybe earning a spot amongst the Fellows of the International Academy of Family Lawyers. Thank you all very much.
Michael H. Walker, of Emmanuel College, Cambridge
---