Miles Preston & Werner Martens awarded President's Medals
Posted: 29 Sep 2018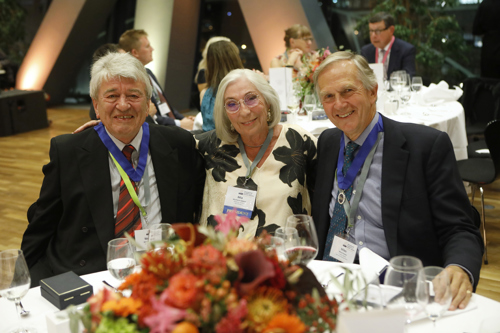 At the IAFL European Chapter Meeting in Stuttgart, IAFL President Mia Reich-Sjögren awarded IAFL President's Medals to former Presidents Miles Preston and Werner Martens in recognition of the significant contributions that they have made to the Academy.
Miles Preston was the first President of the IAFL European Chapter and served in that role from 1989 until 1992, hosting meetings in Paris, Munich, Interlaken and Lyon. He also served as IAFL President from 1994 to 1996 and held his annual meetings in Istanbul, Turkey and Hong Kong.
Werner Martens followed Miles Preston as the second European Chapter President, hosting meetings in Salzburg and Budapest. He then served as IAFL President from 1997-98 and held his annual meeting in San Francisco.
IAFL join Mia in thanking Miles and Werner for all that they have done for the Academy.
---