Werner Martens
Posted: 18 Apr 2023
First, let me provide some background information about Werner, who died on 3rd April 2023.
Werner was born on 18th September 1944 in Munich. He was raised and lived there for the whole of his life apart from a couple of years when he worked and studied in the United States. His English was excellent with a very slight hint of an American accent, acquired, I imagine, while he was living in the States.
He went to school in Munich until he was sixteen when he went to a boarding school in Berchtesgaden for two years. After leaving school, he went to legal college in Munich and Freiburg before doing a legal clerkship in Madison, Wisconsin and, while there, he attended courses at the University of Wisconsin-Madison.
After completing his time in the U.S. he returned to Munich where he joined the Kanzlei (law firm) of Dr. Goetz Pollzien. He married his first wife, Christa (with whom they had their two sons, Florian and Sebastian) in 1975 and was called to the Munich Bar on 3rd April the same year. He remained with this Kanzlei for over forty years, specialising in family law, first as an assistant, then as a partner and ultimately as the senior partner. For forty of his years with the firm he had the same secretary, Mrs. Conrad. In 2018, at the age of 74, he wound up his practise and became a consultant to the firm of SSW, which subsequently evolved into Witzel Erb Backu & Partner in 2020.
I first came across Werner in 1985 when we worked together on an international child case. From that encounter, I immediately realised that I was working with someone who was competent, intelligent, considerate and had complete integrity. He enjoyed a good laugh and the odd glass of lager, the best of which, Augustiner, he introduced me to in Munich. He was also a great supporter of his local football team, Bayern Munich.
The timing of this first meeting was highly fortuitous as it transpired, as it was at only a few months later that Peter Grose-Hodge, a partner with Speechley Bircham, and I met two US attorneys who had come to an IBA conference in London and wanted to discuss our increasingly international workload and the possible merits of creating an international association of family lawyers.
That four party meeting led to the calling of a meeting of twenty-eight English divorce practitioners, thirteen U.S. attorneys, and five lawyers from other countries (two from Ireland, one from France, one from Sweden and one from Germany). We included Werner, the sole German lawyer, because of the chance encounter that I and one or two others had had with him in the recent past.
That first, inaugural as it turned out, meeting was held in October 1986 in the Parliament Chamber of the Inner Temple, one of the Inns of Court in London.
At that meeting, as well as setting up the main International Academy of Family (initially known as Matrimonial) Lawyers, it was agreed to create a US Chapter and an English Chapter. The first President of the English Chapter was Robert Johnson QC and I was asked to be the Chapter's President-Elect. When Robert became a High Court Judge at the end of 1988, I took on the Presidency of the Chapter.
On assuming the role in January 1989, I thought it would be much more fun if we became a European Chapter, thereby embracing all the other European countries and jurisdictions. I called a meeting of the English Chapter fellows a month or so later at the Law Society in Chancery Lane, London. There was unanimous approval of the concept of converting the Chapter into a European Chapter.
In the April, I convened a meeting in Paris of the English Chapter fellows and the few other European fellows, including, of course, Werner. Everyone favoured the conversion of the English Chapter into a European Chapter. The European Chapter was now up and running.
Werner and I immediately jelled and in no time made plans for the first annual European Chapter meeting to take place the following April. The choice of venue, Munich, shows the extent to which Werner had already immersed himself in the Chapter's affairs.
Werner was the key organiser of this meeting and the next one, in Interlaken, in the Spring of 1991.
To get the Chapter established, I served as President for three years so I was still in office for our third annual meeting which took place in Lyon in the spring of 1992. This meeting was organised principally by Audrey Ducroux, another rapidly rising star in the Chapter, but Werner was a huge help with this meeting as well. Very tragically, Audrey died fairly soon thereafter. She was a great loss to the Chapter.
When I stood down at the end of my term as President, it was obvious that my successor should be Werner. He, therefore, took on the Presidency for what by then had been decided should be the standard duration of two years. The Chapter went from strength to strength under his leadership.
Werner went on, as one would have expected, to become President of the Academy in 1997/8. This in itself was quite a saga. At the Paris main Academy annual meeting in the autumn of 1994, when Arthur Berman was due to complete his two years as President, there was a contested election between Werner and another fellow, Philip Schwartz. The election went in favour of Werner, which meant that he would become President-Elect for the two years that I was President of the Academy, and then become President for the following two years, 1996/7 and 1997/8.
Philip Schwartz was unhappy about the result of the election. He believed that there had been an irregularity in the election procedure. So strongly did he feel about this that he instituted court proceedings against the Academy, me in my role as the new President and Werner as the newly elected President-Elect. I spent most of the first year of my term as President resolving these proceedings. It had quickly become apparent that the proceedings could result in both the Academy's insolvency and its complete breakdown and disintegration. Fortunately, the matter was resolved by Werner agreeing to Philip becoming President for a year and he being President for one year instead of two. This was a good old-fashioned compromise but one which saved the Academy from the real possibility of terminal decline and a very sad end after such an amazing take off.
To round off our professional relationship and our friendship, Werner and I were each delighted and honoured to be awarded the Academy's President's Medal by IAFL President Mia Reich-Sjogren at the European Chapter meeting, very appropriately, in Stuttgart in September 2018. This meeting was hosted by former European Chapter President Daniela Kreidler-Pleus, who was one of Werner's very close friends and was brought to the Academy by Werner. I have just found out that he was also made an Honorary Citizen of the State of Tennessee.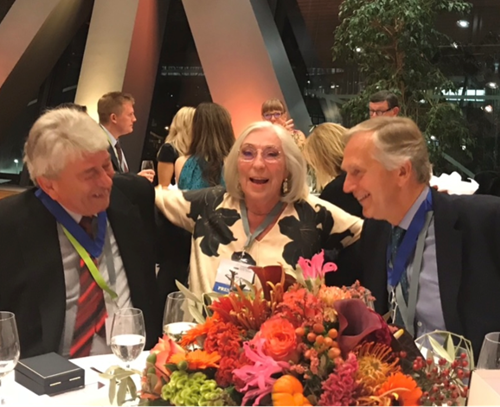 'Werner, Mia and me immediately following Mia presenting the President's Medal to Werner and to me'
Although the European Chapter and the Academy have grown hugely over the last thirty years, I know that Werner, like me, would believe that they have retained the fundamental ethos which the early leaders of the Academy held so dear namely that of the importance of camaraderie between the fellows and making new fellows feel very welcomed into the family which is the IAFL.
As well as putting endless effort into helping the Chapter and the Academy as a whole to continue to develop, Werner ran his professional practise really well for over forty years before becoming a consultant to SSW in 2018, and he also brought up his two delightful sons Florian and Sebastian, both of whom are a great credit to him. Werner is survived by his beautiful and kind second wife, to whom he got married on 17th September 2004, also called Christa. This was the day before his sixtieth birthday - he felt it would be inappropriate to get married after he was sixty! Many fellows will remember Christa, and in the early days the boys accompanying Werner to numerous Chapter and Academy meetings.
Werner's death comes as a huge sadness and loss to the Academy. He will always be remembered as one of the founding fellows and someone who put his heart and soul into everything he did.
May he rest in peace.
Miles Preston
Founding Fellow (1986) and former President of the European Chapter (1989-1992) and the IAFL (1994-1996)
---