Join Us in Santiago
Posted: 24 Jul 2023 by Kathy Maddox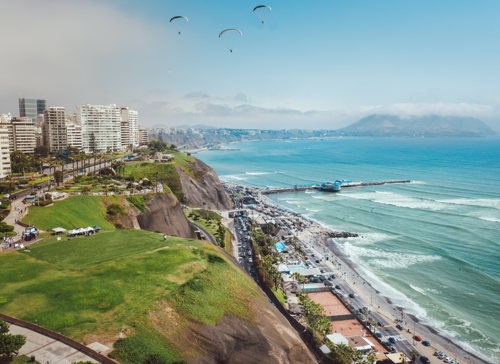 Join Us in Santiago! 
 We look forward to seeing Fellows at our upcoming Global - Annual General Meeting combined with the USA-Canada Chapter in Santiago, Chile from 6-10 September 2023.
 Chile is known for its diverse landscapes, amazing wine, art, history and food.  Santiago in particular is known for street dancing, nightlife, its Central Market, Plaza de Armas and an amazing food scene. 
 Just a day trip from Santiago you can go skiing, head to the ocean, or explore Chilean wine country.  We are planning a day trip on Tuesday to the Valle Nevado, the largest skiing area in South America, just 46km east of Santiago. 
 If you enjoy the ocean, head to Viña del Mar or Valparaiso.  Valparaiso is known for steep funiculars and vibrant and colorful clifftop homes while Viña del Mar is known for its colorful gardens and beaches.
 If you enjoy wine, don't miss a chance to visit the exquisite wineries in the Colchagua Valley which has been heralded by Wine Enthusiast for combining it's deep-rooted history with viticultural variety.  In the Colchagua Valley you will find Chile's best reds including Cabernet Sauvignon, Carmenere and Syrah. Or head just ah hour west of Santiago to the Casablanca Valley for crisp, coastal whites. 
 One of the IAFL's planned afternoon day trips is to the Santa Rita Winery.  This winery is known for its cuttings originally brought over from France by founder Don Domingo Fernández Concha.  As such, Santa Rita's French varieties are consistently lauded for their quality.
 If you plan on bringing wine back home with you, you may wish to consider bringing a wine suitcase such as a Vin Valise or bringing wine sleeves in your suitcase. 
 Santiago is one of South America's best culinary cities.  If you enjoy food, there are plenty of nearby food markets and cooking classes to be found.  According to Conde Nast Traveler, whether you're in the mood for an empanada from a street vendor or haute sushi served under the stars, Santiago has options for every palate and price tag.
 In addition to Chile being an incredible location for our upcoming joint meeting, we also have spectacular education planned.  Our first speaker will be the USA Ambassador to Chile.  Next up we learn about the ins and outs of international service of process.  We will also cover asylum and refugee status and the intersection of the Hague Abduction Convention, a growing issue given current world events.  There will also be several comparative law panels covering child custody presumptions, child support and related financial concerns for children over the age of 18 years and family law in Latin America.
You can find all the details of the upcoming conference here:  https://www.iafl.com/events/forthcoming-events/santiago-september-2023/.  A discounted registration rate is available to lawyers from Latin America - see the website for further details.
 As a reminder, our early bird registration rates are valid through 31 July 2023.       
---