Lorraine Schembri Orland appointed to Bench
Posted: 29 Oct 2012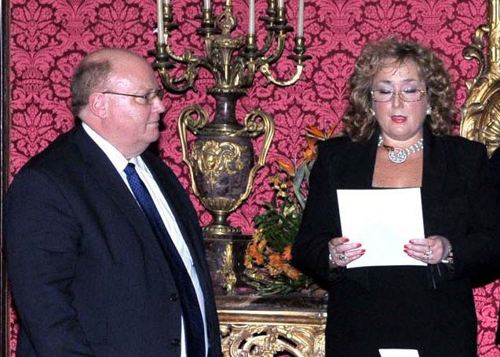 We were delighted to hear that Fellow Lorraine Schembri Orland was sworn in as a Judge to the Superior Courts of Malta by the President of the Republic on October 29th 2012.
Lorraine says,
I therefore no longer practice law as an advocate though it is with regret that I leave this part of the profession behind me.
IAML has enriched my professional and personal life as it has provided a platform for professional networking and friendship . Fellowship in the Academy has also provided an inestimable wealth of experience and knowledge in family and matrimonial law.
We wish Lorraine every success in her judicial career and are delighted that Lorraine has decided to remain with the Academy as a Judicial Fellow.
Above is a photo of the swearing-in ceremony held at the Hall of Ambassadors at the President's Palace, Valletta, Malta on 29th October 2012. The oath is administered by the Attorney General, Dr. Peter Grech far left. Next to Lorraine left to right are : H.E. the President of the Republic, Dr. George Abela, the Hon, Prime Minister Dr. Lawrence Gonzi, the Hon. Chief Justice Dr. Silvio Camilleri, the Hon. Minister of Justice Dr. Chris Said.  Click here to see a larger photo
---